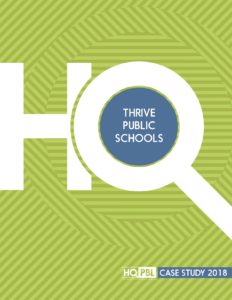 At Thrive Public Schools in San Diego, California—a school network with a strong focus on high quality Project Based Learning (HQPBL)—projects are a necessary part of reaching the diverse population served by the school. About half of Thrive students are eligible for free or reduced lunch; as many as one in four are identified as 'exceptional learners'; and nearly 30% of students speak a language other than English at home.
With students coming from 45 different zip codes—including families of Somali refugees as well as San Diego's most affluent families—there are some who travel over an hour each way in order to study at Thrive. They make up a religiously, ethnically and neurologically diverse cohort. The Thrive community views this diversity as one of their greatest strengths. 
Dr. Nicole Assisi, CEO of Thrive Public Schools, shared her hopes for the growing network of schools. "At scale, each of our campuses will have about 500 students—so we'll be able to serve 1500 students in total, from a variety of backgrounds. It is inspiring to be able to impact kids and their families, and to bring people together to be part of our academic community."
Regardless of students' grade level or campus location, PBL is threaded throughout the curriculum at Thrive. There are three core components to students' work:
Giving students time when they learn to learn

—that is, imbuing them with the basic literacy and numeracy skills to move forward academically, develop self-efficacy, and become lifelong learners;

Helping students learn to do

, which involves project based work that incorporates technology, data and small group instruction;

And supporting students as they learn to be,

developing an understanding of themselves and others, with an emphasis on SEL, council, and self-acceptance.
Assisi previously co-founded Da Vinci Schools, a successful charter school network in Los Angeles that continues to infuse its programming with PBL methodologies. She is confident that HQPBL student experiences are key in helping to eliminate the opportunity gap in K-12 education.
"PBL closes the opportunity gap for kids in diverse communities. By having HQPBL experiences, students are exposed to what we call 'wicked' real world problems and conducting field work with experts. This gives all students the exposure to all kinds of aspirational roles and responsibilities."
Ambitions, she says, grow as students build awareness of the evolving world around them and the many professional possibilities that may lay ahead. "You can only really aspire to something once you have some sort of notion of it."